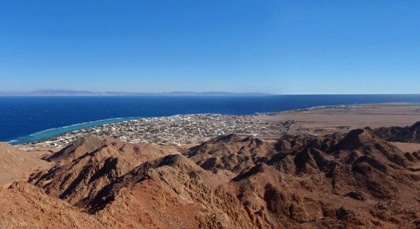 Sharm El Sheik, a "sea & mountains" holiday

filled by Giulia & Andrea





If in December you want to go where the sun always shines , with mild temperatures but enough to lie on the beach and then dive thinking about your friends that at home are covered with gloves, scarves and hats, Sharm can be your ideal destination.
Located at the south east of the Sinai Peninsula, where the Gulf of Suez meets the Gulf of Aqaba, Sharm attracts sun lovers from all around the world.
White beaches, coral reefs to discover just with a simple mask and snorkeling, Sinai mountains behind you and the desert to go through by jeep, camel or quad.
Even if you are not expert divers in the Red Sea you will live an unforgettable experience …snorkeling on the surface you can see dozens and dozens of colorful fishes and graceful and willowy jellyfish that only here are absolutely harmless.
From Sharm you can make excursions: to the Monastery of Saint Catherine, to the Marine Park of Ras Mohamed and you can also do the ascent to the Sinai mountain.
The night hike on Sinai Mount is truly an experience you will not forget: this is where Moses had received the Ten Commandments. You will be going up next to people who speak all languages of the world, and you all wait together for the sunrise on the summit. From the summit, 2286 meters, the view that opens up is fantastic.
Usually for a holiday in Sharm you book flight + hotel package. The flights are charter, while hotels are truly international villages.