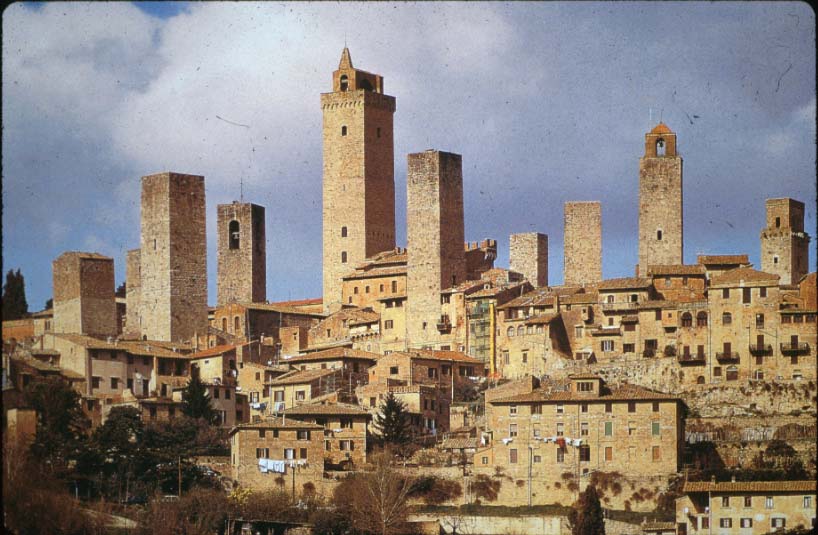 San Gimignano

filled by Giulia





It 's a picturesque village that still maintains the same medieval look characterized by numerous towers, monuments and art treasures. It has a superb architecture, among the most beautiful of Tuscany.
San Gimignano gives a jump back in time between stones and frescoes, olive trees, roof tiles and arches, palaces and churches.
You can see it in a hurry, capturing a memory of it in a glance, but you can stop even a week, maybe staying in a nearby farmhouse, and still staying with the feeling of not having seen it all ...
Because San Gimignano is a place to explore slowly, walking along the streets and squares of the old town, visiting churches and museums, breathing clean air in the countryside and woods.
Occasionally stopping by some local restaurant for coffee, tea or an aperitif or for a glass of Vernaccia wine or Vin Greco.
It's a must to climb up the Torre Grossa to have a complete panoramic view. A breathtaking view will surprise you on the top: the houses creep in front and behind the tower, the rooftops open and reveal terraces and hanging gardens, the stone appears as a town painted on a canvas of green and blue background by the author. It is not the only big tower in town, there are also the Rognosa, the Gemelle and the Devil tower. In the alleys of the center, the "chiassini", there are craft shops of all sorts, artisan in gold, potters and weavers.
And then the "Passeggiata lungomura" walking along the walls: Via San Matteo, Piazza St. Augustine, the monastery of St. Jerome, La porte alle fonti, the convent of San Domenico ... And if you have time for an intellectual break, it's well worth visting the tourism library with an archive of films shot in San Gimignano.
The towers of San Gimignano and their metaphysical atmosphere inspired filmmakers from around the world to choose this small and remained firm to the Middle Ages village as a location for their films. Franco Zeffirelli filmed here works as "Brother Sun, Sister Moon" and "A Tea with Mussolini", in which a group of aristocratic English women fond of art and cultural heroically defended treasures of the city by the Germans who wanted to destroy the two towers . The Taviani brothers realized here "The Meadow" (1979) with Isabella Rossellini.