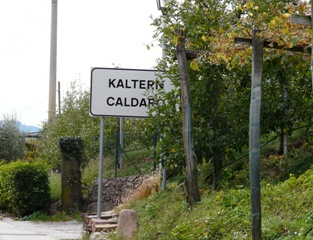 The wine route

filled by Giulia





36 km through the centers of Oltradige which extend their vineyards on the slopes of Mendel.
The wine route, created at the beginning of '900, at the beginning of the autumn season is a path between colors and shades of an impressionist painting.
Depending on the time available it is possible to drive across the town chosen by single-step, or stopping in more wineries to verify the differences of the various wines on offer.
The first town you come to is Cornaiano, where you can start tasting at the "Cantina Produttori di Colterenzio" or at the private "Niedermayr." Further on is Appiano, a village of palaces with seven different churches and castles.
Tastings and purchases at the "Cantina Sociale San Michele Appiano" and the centuries-old company "Josef Brigl."
From Appian the wine route leads to Caldaro: old castles, mansions, baroque classical parish church of 18 century, other churches, and Baroque fountain in the town square.
To taste the famous local red, wine from grapes Pinot Noir and Lagrein, a visit to the "Cantina Sociale Erste & Neue", and"Viticoltori Caldaro . To note is "Di Pauli", which is housed at the an important wine museum.
From Cladaro the wine route leadsto the lake with all its famous vineyards. Halfway to the lake is Castel Ringberg, 1600, with a wine museum and a collection of miniature castles of South Tyrol. The lake of Caldaro, the biggest and the hottest in South Tyrol, is surrounded on three sides by vineyards, offers 4 resorts and the possibility of sailing.
Then arriving to Termeno / Tramin, home of the fragrant Gewurztraminer, that is valued under the vaulted cellar "Hofstatter", already a supplier to the imperial house, or at the "Hokellerei Walch," set in a picturesque medieval convent.
Kurtatsch, with its scattered hamlets and Entiklar Castle, where it is made of Muller Thurgau "Tiefenbrunner", vineyards records to 1000 meters. The path ends at Margreid, where are the labels finest Pinot Grigio and Chardonnay of the historic "Lageder".
On the way back, on the other side, stop at Mountain Pinot Noir to taste the wine cellar, "Franz Haas."
Detours along the way: near Appian is a beautiful promenade, the so-called Eislochern. A garden of stones in the woods with rare plants. In the forest there are also large and the small lake Montiggl, 6 km from Appian.
The curved Appiano road leads to Passo Mendola, also accessible from Caldaro with the famous rcog railway, opened in 1901 and still working.
From Passo Mendola to Oltradige can enjoy a beautiful view, especially from Penegal, which is 45 minutes away on foot or by car from the pass in a few minutes.