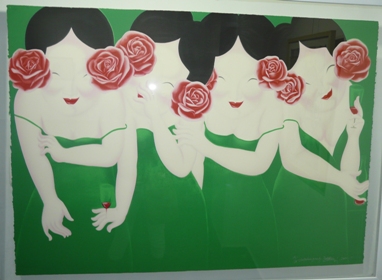 Beijing.Contradictions of a star

filled by Giulia





It depends ... depends on what you look from that point ... it all depends on Beijing ...
You can look through the windows of skyscrapers, big, huge, with the lucidity and detachment that gives you a view from above.
you can watch in the thousand shops of Silk Market, the reign of counterfeiting, where risks of investing all your money looking for a more perfect copy, and where you discover that here to copy is a value, synonymous with culture and knowledge.
You can look inside of an old hotel, with its atmosphere of Old Beijing, or the high-tech lobby of a building of the new economy. You can look at the paintings of artists displaying 798 neighborhoods, full of color, energy and irony, forgetting that you are in the grand tradition of imperial China.
You can look at the mausoleum of Mao in a row, constant and daily string, in front of the Apple center where each output file is a new product.
You can look at a Chinese restaurant spending in two 120, 500 and the next night, beside a lake that offers melancholic atmospheres at high prices.
The watch can comfortably seated in a taxi while unsuccessfully trying to explain where would you go and curse you for not remembering to take a note and let you translate the name of the place in their characters, and you feel small, alone and misunderstood.
The tickets can watch the masseuses, tucked under the door of your hotel room, young and beautiful, of mystery and promise of pleasure.
Can you see through the eyes of the tourist who has studied the guide before starting, and now goes to fail in the Forbidden City, Temple of Heaven in PiazzaTiennammen, at the Stadio Olimpico and the Teatro dell 'Opera. You can watch the plane leaving for Italy, almost with a sigh of relief, as if your own house instead of going on vacation, because here there are no holidays or rest, everything is in motion, there are no pauses, no dead time, even sitting behind a taxi you're almost forced to watch commercials on the screen attached to the front seat.
Can you look bright-eyed after a few glasses of baijiu, setting a red flag with the liquid that breaks down the star look ... and then Beijing will seem a little 'less distant, a little' less unattainable, a little 'less star.