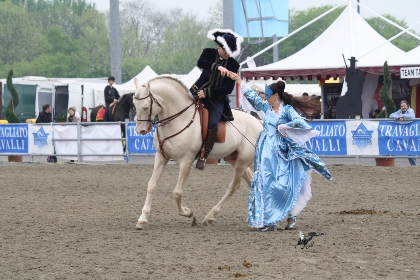 TRAVAGLIATO HORSES 2015: weekend between carriages and horses!

filled by Giulia & Romeo





The nickname, "the citadel of the horse", it's not a coincidence: this year Travagliato i s going to open the new edition, the 36th, of TRAVAGLIATOCAVALLI, a historic event in which, from April 30 to May 3 th, more than 800 horses will be showed . An opportunity for all the lovers of horses, including children, to spend a nice day between manes, coaches, and more.

They will come about 200 exhibitors from all over the Europe, participating to the fair with equipment, clothing, local products, articles for the welfare of the horses ... For those who desire to do specialized shopping this is an opportunity not to be missed.
During the days of the fair you will see a lot of disciplines : from Jumping to the Attacks, Western riding and Doma Vaquera… Different races will alternate in the program, from the mini pony to the Quarter Horse, from the Lusitan to the Arabic Pure Blood and the Italian Saddle Horse .
For fans of old crafts, workshops and laboratories will show the art of shoeing horses, with a show of fire and forge.

In the evening the spotlight will be focused on the stage show "the GIFT", that will touch adults and children. It will be staged the relationship between man and horse, with a horse show and a passionate story directed by Umberto Scotti with the collaboration of Marzia Garrani and Christian Poggese, with equestrian artists of international fame. The appointment is for Thursday, Friday and Saturday at h. 21.00 and last replication on Sunday at h. 17.00 .
For children busy days are coming. The entire area of the "hill" is infact dedicated to themselves: there will be pony rides, the baptism of the saddle, the attacks, walks with donkeys, animations, face painting and games, even the practical tests collection ...

In conjunction with the exhibition is an exhibition Horse-History-Art-Craft, at the Chiesa del Suffragio in Piazza della Libertà, which tells to the long relationship between man and horse.

And for those wishing to explore the surroundings ... the Franciacorta is very close with all its green hills as well as Iseo Lake...
Op op … have a nice weekend!