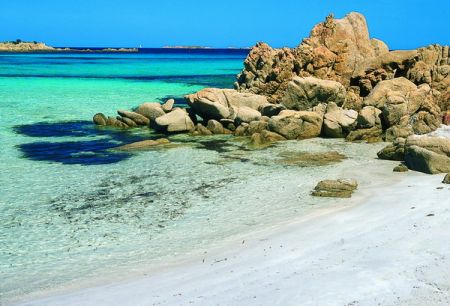 Costa Smeralda

filled by Giulia





The Emerald Coast encompasses about 55 kilometers from Porto Cugnana the splendid hotels in Porto Cervo and the tourist center of Baja Sardinia. It's the most popular Italian coast with VIPs from around the world. Born in the 60s as a paradise for the rich and famous, in 40 years has never lost its charm.
The center of this paradise is Porto Cervo, with its neo-Mediterranean architecture around arches and squares, so beautiful and perfect as to be almost works of fantasy.
The social life of the lights around the Piazzetta delle Chiacchiere and the Sottopiazza. From here you will start your night long, which moves up the coast at dawn. A must in some trendy bar, a drink, perhaps with the soundtrack of waves arriving from far away ... And then parties and party until sunrise ... and then, all at the beach.
There will be spoiled for choice. The Costa Smeralda is in fact a series of dream beaches, from Liscia di Vacca in the north to the south to Razza di Junco.
Liscia Ruja, a jewel on the southern tip of Cala di Volpe, eight kilometers from Porto Cervo. It is 500 meters of dream beach, which is accessed by a dusty path. The white beach, remembers the Caribbean, plus the intense fragrance of myrtle and arbutus. To complete the picture of the author, near the shoreline of the beach is white and pink descends into an emerald sea. It is a rather small and intimate beach Poltu li Coggi, which is located just north Romazzino in the locality. Wonderful beaches, beautiful hotels ... but not only. The Emerald Coast offers special food and wine for all the spirits Epicureans.
Listen to it: the typical folk choirs. To admire: the most amazing oceanbeds.