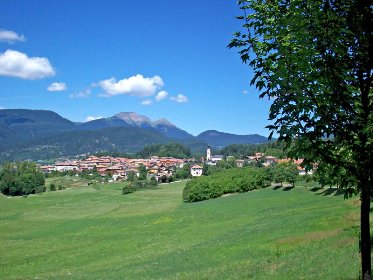 weekend in "Non" Valley: among apples, walks and strudel

filled by Giulia





Welcome to Val di Non (Anaunia), famous worldwide for its amazing production of apples.
A valley to explore, where a weekend is only a first dive in the green and the story that you will want to investigate ...
The valley is located along the second track Walnut, the stream that comes from the Val di Sole and is a natural spectacle from spring to autumn, the apple trees in bloom and full of apples are very suggestive in this panoramic setting, dominated by the Brenta Dolomites and the peaks of the Ortler Alps in the distance. Unmistakable is the dam of Santa Giustina (near Cles), a large artificial lake, built on one of the most horrid that runs parallel to the narrow valley (ravine) and offers a sheer drop of 152 meters.
Attraction of thousands of tourists each year is the Lake Tovel, once subject to reddish color due to a microorganism today perhaps irretrievably extinct. An oasis of peace in whose waters reflected the Brenta.

Also visit the Lake Emerald di Fondo: it is a beautiful area and very intimate, whose main attraction is the pre-glacial gorge that made famous the Fondo. Besides the classic charming walk to the ravine, this year, guided tours are made also to the Canyon Rio Sass.
The valley makes stourist curious tourists not only for nature but also for its archaeological sites, castles, palaces and stately homes, painted houses, sacred buildings ...

In Upper Valley of Non (Fondo, Cavareno) survive prehistoric and medieval artifacts (such as the frescoes of the fifteenth and sixteenth centuries found on the walls of some houses or in the Church of Saint Lucia (Fund).
Findings and evidence also Sanzeno, where you can admire a basilica built over a chapel built by St. Vigil.

Another landmark building is San'Agnese of Doss, dating back to 1307 but was struck by lightning and then restored in the early years of this century. Unique in Europe, the sanctuary of St. Romedio: born as a chapel built on the occasion of the death of Romedio (hermit who retired here struck by the devotion of a Christian missionary) has subsequently developed an interesting architectural complex.
Many of the castles of Castelfondo, Malgolo, Bragher, Cles, Nanno, Thun ... the latter, on Vigo di Ton, looks like a civil and military castel, in which the fortifications are still visible and the structures of attack and defense.
The valley is crossed by the railway line Trento - Malč. This line is now completely renovated after the damage that were taken by the bombing that took place during the Second World War. It is equipped to transport bicycles.