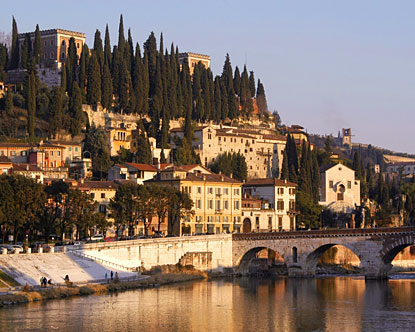 Verona

filled by Giulia





Monumental city, Shakespearean drama of the tragic love between Romeo and Juliet, Verona welcomes you with its charming literature and architectural. Ancient Roman colony, combined with the elegant Piazza Bra to the old town along Via Mazzini, is well known for the Arena, a splendid Roman amphitheater with 44 rows, in the summer of important opera scenario. Of which we recommend to see at least one, to completely immerse yourself in the romantic atmosphere of this city.
To vist, again, Piazza delle Erbe, Piazza dei Signori with the Lodge of the Council, the Church of San Zeno, Castelvecchio, the Scaliger Bridge. Verona offers significant opportunities for those who love antiques: in the streets of St. Anastasia, and Massalongo Sottoriva you can find porcelain, furniture, ornaments, tapestries, paintings and prints.
Typical dishes from Verona: boiled meat with peppers (cheese, pepper sauce), risotto "pilota" with pork, potato dumplings with butter, bigoli (noodles) with the sardines. The garlic salami, ham and chicken breasts. Typical desserts: the famous Pandoro, the brassadella and Natili . Wine: Valpolicella, Valpantena, Bardolino, Amarone and Soave. Dessert wine: Recioto.