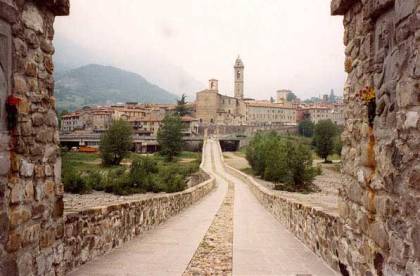 Pic nic in Val Trebbia




filled by Giulia






Swimsuit and towel, bucket and spade, but especially football ... wicker basket with a tablecloth of cotton checkered red and white, bread and salami Lambrusco!
The Trebbia is the perfect setting for a picnic in nature. Recommended the beach by the river Trebia Marsaglia in the locality. (Coming from Milan to Piacenza motorway south, to Bobbio and is about 10 km after Marsaglia,, total about 130 miles, an hour and a half from Milan) from here, after a day of impressionist painting, you can reach the village of Brugnello peak overlooking the beachfront. The village consists of a few houses, and under a beautiful wooden gazebo you can admire the lengthening shadows of the breeze valle.Impossible then not see the church of the village: overlooking an abyss from a spur, and seems to hold the few houses behind. Pisarei and fasò conclude the day in one of the guest houses of the place. Recommended Rocca Rosa. To note: If you have a motorcycle you will find heaven. The show offers a natural way to Bobbio is a must. And for sports lovers: the old "Sports Open space" of Marsaglia gives the possibility of river for canoeing, rafting, hiking, Canoying, mountain biking, in addition to aerobics and stretching on Sunday morning. Great bar food for lunch and for dinner, spend time in the company of other visitors. And here can also stay in rooms with bunk beds and shared bathrooms. Possibility of camping in the garden. Spectacular location in the canoe in the spring nights Trebbia / summer full moon ... Another site recommended in the area are 'le anse di San Salvatore', immediately after Bobbio. Great natural spectacle: forced by imposing rocks.