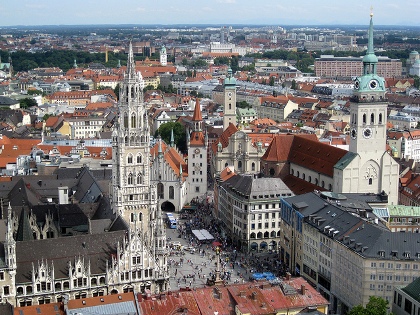 Monaco , historic center : an open-air museum

filled by Giulia & Romeo





Walking through the center of Monaco gives the impression of being in an open-air museum . Palaces , churches and monuments tell visitors the history of the city ...

The most important church of Monaco is the Cathedral of the Virgin Mary, better known as the Frauenkirche , one of the largest churches in the late Gothic style in Europe. The two towers are more than 100 feet tall and have become the symbol of the city. The interior is also beautiful , very slender, where you can see the beautiful stained glass windows , and curious detail , the mark of the devil. Near the main entrance and behind the fence hides in fact a footprint that is said to have been left by the devil himself following a lost bet with the architect of the church.

From the Cathedral it can be reached in a few minutes the main square in Munich, Marienplatz, where are the Marian column, erected as a sign of thanksgiving for the end of Swedish occupation and the Fountain of Fish.
The new city hall , Neues Rathaus , makes a fine show , with the center of the famous tower carillon working every day at 11.00 and at 12, 00 . With 43 bells soul every day with the movements of 32 figures in copper. The whole thing lasts for 15 minutes , leaving gaping all the tourists who flock curious ...

In Rosenplatz is the Residenz , the former royal palace of the Bavarian monarchs and seat of government, now home to several wonderful museums .
Do not miss the masterpieces by Dürer , Rubens, Raffaello , Cezanne and Van Gogh, to name a few , kept in the Pinacoteca .
Still not miss the climb up the tower of the church of Saint Peter : with little more than one euro you climb the steps to reach the rooftop terrace at 96 meters high, from where you can enjoy the most beautiful view of the entire Monaco of Bavaria.
With tram 17 from Central Station and then by walking along the canal that opens into the pool of water lilies right there ... you can reach the Nymphenburg Palace . Less salt than the Residenz , but only the glance of the central hall , the Gartensaal , well worth the visit . Very nice also the outdoor park , with ponds and a canal along six kilometers that ends with a waterfall.
The garden of Monaco is Englishergarten however, is in the other side of the city. A huge green area of 364 acres and one of the largest urban parks in Europe.

And finally ... a pint of beer at the Hofbrauhaus , nicknamed the temple of beer ...
With a little 'patience you can sit in one of the many rooms and a sort Ein Mass ( liter stein ) between the delicious beer types of proposals. All accompanied with a hearty cuisine of the place ... There will certainly bold and the roaring pace of Bavarian music , with its happy tune often interrupted by the legendary chorus "Ein Prosit " .